THE PINK CITY RICKSHAW COMPANY
The Pink City Rickshaw Co. is a unique innovative initiative of ACCESS Development Services, a not for profit organization and aims to provide a new aspirational employment opportunity to 200 women from low income households in Jaipur. Skilled to ply custom designed e-rickshaws, they have enrolled as equity holders in the Pink City Rickshaw Co. that they now proudly own and manage.
Experience the medieval mystique of the walled city in these unique and custom designed, ecofriendly rickshaws driven by smart, enthusiastic and well trained women. The well planned tours of the important tourist attractions of Jaipur and the novel circuits provide you the best sights, a chance to soak in the local culture and give you an experience like none other.
Read More
OUR TOURS
Explore the secrets hidden in the walled city of Jaipur on our uniquely designed, eco-friendly e-rickshaws driven by smart, enthusiastic and well trained women, all from low income households. The Pink City Rickshaw Company provides the Jaipur visitors a peek into to soul of the old city while providing a new source of income to these women.
OUR COMMUNITY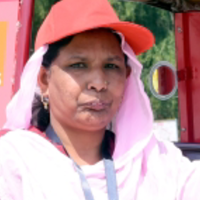 Najma Bano, Age : 46yrs
Najma Bano is from the Shivaji Nagar slum of Jaipur and is a mother of four. Past the age of 40, when most from her peers were happy to take on a grandmother's duties, she approached us and wanted to join the Pink City rickshaw company. Apart from making lac bangles to support the meager income her husband made from his cycle repair shop, she had never worked before. Najma was an unlikely candidate even for us. She didn't complete education, was above our target age and had not travelled on her own too much.
But there was a strong silent determination in her that stood out and made us reconsider our hesitation. Her children supported her and strengthened her resolve , her community did not.
Now, she's one of our trainers and extremely respected by the other riders. Every tour she takes, she floors the visitors with her understated charm and politeness. In her soft voice, she convinces those ladies hesitant about trying this very unusual venture and reinforces that being independent is a state of mind.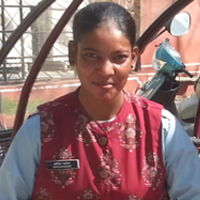 Anita Mahawar, Age : 25yrs
Anita Mahawar is from the Kala Hanuman Kachhi basti near Jal Mahal. Her father migrated to Jaipur 30 years ago and works as a labour hand. Armed with a Masters' degree, she later joined the Home Guards. On any given day, chances are high that you'll find her in the Amer Fort in Jaipur, minding the tourists. This dynamic woman never drove even a cycle before, but immediately got the concept of the Pink City rickshaw Company and joined us our last batch of trainees.
Now she's a shareholder in the Pink City rickshaw Company and one of our favorites to lead a large group. She smartly maneuvers the rickshaw in the narrow lanes of the walled city congested with traffic and is very proud of showing off her city. Her confidence not only makes the tourists at ease, but also inspires other women to look at this initiative as a supplementary livelihoods option.
Bookings to be made 24 hours in advance please.